If you use Elementor, you are undoubtedly constantly searching for plugins that can improve the features and functionality of your website. HappyAddons is one such plugin that is becoming more and more well-liked among Elementor users.
You may create more complex and aesthetically pleasing websites with the aid of HappyAddons, a plugin that is made to function with the Elementor page builder. In this piece, we'll examine more closely at HappyAddons, its features, and the reasons it's a good option for your Elementor website.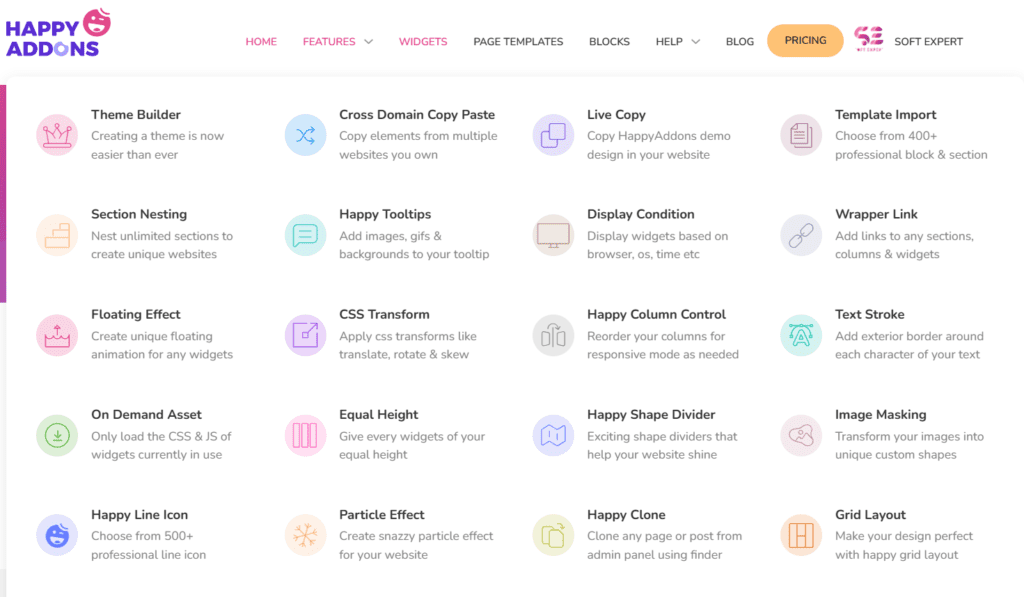 Features and Widgets
The vast collection of widgets that HappyAddons offers is one of its key advantages. HappyAddons has a large selection of alternatives, offering more than 50 widgets.
Info Box
Dual Button
Image Compare
Testimonial Carousel
Pricing Table
Team Members

In addition to widgets, HappyAddons also offers a range of features that can help you customize your website even further. These include:
Live Copy: This feature allows you to copy and paste any element on your website, including widgets and entire pages.
Cross-Domain Copy-Paste: This feature allows you to copy and paste elements from one website to another, even if they are on different domains.
CSS Transform: This feature allows you to add custom CSS to any element on your website, giving you more control over its appearance and behavior.
Presets: This feature allows you to save any widget or section as a preset, which you can then reuse across your website.

Compatibility and Performance
One of the things that set HappyAddons apart from other Elementor plugins is its compatibility with other popular plugins and themes. HappyAddons works seamlessly with popular WordPress plugins like WooCommerce and Contact Form 7, as well as with popular themes like Astra and OceanWP.
In terms of performance, HappyAddons is designed to be lightweight and fast-loading. This means that it won't slow down your website or affect its performance in any way. Additionally, HappyAddons is fully optimized for mobile devices, ensuring that your website looks great on all screen sizes.
Pricing and Support
HappyAddons is available in both free and paid versions. The free version includes a selection of widgets and features, while the paid version offers access to all widgets and features, as well as priority support. The paid version of HappyAddons is priced at $39 per year for a single-site license, $79 per year for a five-site license, and $149 per year for an unlimited-site license.

In terms of support, HappyAddons offers a range of resources to help you get started with the plugin. This includes documentation, tutorials, and a dedicated support forum where you can ask questions and get help from other users.
Conclusion
Overall, HappyAddons is a powerful and versatile plugin that can help you take your Elementor website to the next level. With its extensive library of widgets and features, as well as its compatibility with popular plugins and themes, HappyAddons is a great choice for anyone looking to create a more engaging and interactive website. Whether you are a beginner or an experienced web designer, HappyAddons is definitely worth considering for your next Elementor project.