Do you want to convert every file with 2 clicks?
There are many file converters available both online and offline, but how about one that works from Windows File Explorer right-click (context) menu? File Converter does just that.
File Converter is a free open source Windows program that converts and compresses a variety of file formats from the right-click menu in Windows File Explorer. Once installed, it appears in the context (right-click) menu.
It's very easy to use; right-click on a file (or several files) in Windows File Explorer, choose File Converter, and select the file format. A window opens showing the progress of the conversion and closes when it's complete. Converted files are stored in the same folder as the source file and have the same name with a different extension.
File Converter won't appear in the context menu if you right-click on a file that isn't supported, a nice touch that keeps the context menu less cluttered.
File Converter works with audio, video, image, and document files and supports these formats:
Supported output formats
Compatible input formats
Audio
flac, aac, ogg, mp3, wav
3gp, aiff, ape, avi, bik, cda, flac, flv, m4a, mkv, mov, mp3, mp4, oga, ogg, wav, webm, wma, wmv
Video
webm, mkv, mp4, ogv, avi, gif
3gp, avi, bik, flv, gif, m4v, mkv, mp4, mpeg, mov, ogv, webm, wmv
Image
png, jpg, ico, webp
bmp, exr, ico, jpg, jpeg, png, psd, svg, tiff, tga, webp, pdf, doc*, docx*, odt*, odp*, ods*, ppt*, pptx*, xls*,
xlsx*
Document
pdf
doc*, docx*, odt*, odp*, ods*, ppt*, pptx*, xls*, xlsx*, bmp, exr, ico, jpg, jpeg, png, psd, svg, tiff, tga
* You need to have Microsoft Office installed and activated in order to convert Office documents.
File Converter can be customized using the Windows program menu, though the defaults should work well for most people. It's lightweight, fast, and quite useful.
It's worth noting that File Converter will work in some other file management programs as well as Windows File Explorer. It worked well in Directory Opus (paid program) and had a few misses in xplorer². The right-click entry wasn't available in some other file managers such as XYplorer and One Commander.
It runs on Windows Vista / 7 / 8 and 10, and the 32-bit and 64-bit installers (.msi) are clean according to VirusTotal.
---
HandBrake Overview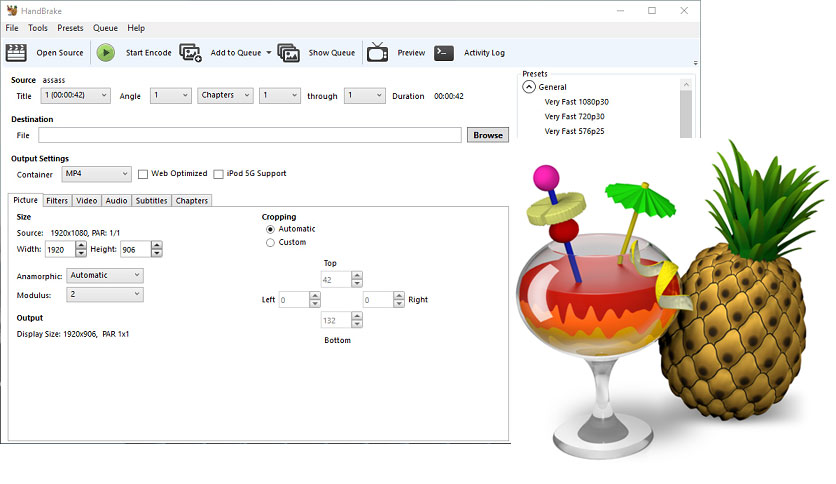 HandBrake is an effective and highly configurable video converter. The interface can be intimidating, though, and you'll need some transcoding experience to get the best out of the program.
Get started with this Open Source Video Transcoder in seconds by choosing a profile optimized for your device, or choose a universal profile for standard or high-quality conversions. Simple, easy, fast. For those that want more choice, tweak many basic and advanced options to improve your encodes.
You also can preview results, create task lists (for batch conversions), and configure the program's settings, among many other useful advantages included with this audio and video tool.
Features of HandBrake
Convert video from nearly any format
Free and Open Source
Multi-Platform (Windows, Mac and Linux)
Built-in Device Presets
Title / chapter and range selection
Batch Scan and Queueing of encodes
Chapter Markers
Subtitles (VobSub, Closed Captions CEA-608, SSA, SRT)
Constant Quality or Average Bitrate Video Encoding
Support for VFR and CFR
Video Filters: Deinterlacing, Decomb, Denoise, Detelecine, Deblock, Grayscale, Cropping and scaling
Live Static and Video Preview
System Requirements and Technical Details
Supported OS: Windows 10, Windows 8.1, Windows 7
RAM (Memory): 2 GB RAM (4 GB recommended)
Free Hard Disk Space: 200 MB or more